Teaching Philosophy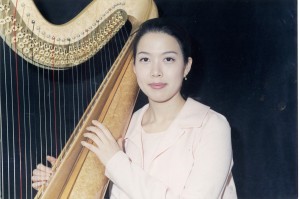 "I believe that a wonderful, considerate teacher can impact and influence many aspects of a student's life in positive ways. I want to be more than just a harp teacher. Apart from teaching a student how to play the harp, I also want to teach them how to live, and think as a musician, and contribute to the beauty of the overall harp sound."-Dr.Chaerin Kim, 2009
There are 9 rules in her teaching philosophy.
1. Patience
I believe being patient is the first step, and it is very necessary for teachers to wait to help students to get what they want in music performance. Sometimes teachers do not pay attention to the student, or wait for their response, and I think this is a big obstacle for students developing their highest potential. I would say a teacher who is not patient needs to teach themselves patience first, and then apply it in their teaching technique.
2. Focus
Most successful people in the world have a very high concentration level which allows these people to achieve many more things than others who do not have focus. My approach helps the students to focus when they want to perform, practice, take classes, and even with the other non-related issues they may have. I believe if everyone keeps practicing and continues to push themselves over and over, in the end they will eventually succeed. I will encourage my students not to give up easily and help them to persevere until they obtain their personal goal.
3. Health
I believe a person with good mental and physical health helps to produce a good tone. Therefore, I will help students maintain a good mental, physical condition while they practice and perform. I believe when people are emotionally stable, and consistent, they offer their best performance. Also, a person with a good heart can touch, and give an unforgettable impression on another person's heart. Thus, I will help my students to steady their emotions and draw from their inner awareness while they perform and practice, and will help them to give their inner heartfelt best during their performances.
4. Solid Foundation
Even if a person has a wonderful musical gift, if that person does not know how to play well it will be of no use. A strong foundation with good basics in performing technique makes a huge difference as the progress. It may take more time and commitment to gain good basic techniques, but later, students realize that it is much more effective and saves them from having to go back to the beginning to start over again. Therefore, I will teach my students to develop a solid foundation, and I would seek out the best method for each student to develop their best technique individually.
5. Motivation
I will encourage students to feel pleasure in their work. I will also not be afraid of telling students to quit if they don't really enjoy what they are doing. I do not mind if they do not play well, but I do mind if they do not enjoy what they do, because at some point in their lives, they will realize how important it is to stay committed and not hesitate.  I will motivate as much as I can by giving them encouragement, providing them with enough performance opportunities and motivating them with positive attitude.
6. Doing Your Best
I would recommend to all my students to prepare to do their best, expect their best, and then I would not blame them if they do not succeed even if it does not turn out to be their best. I think the process of doing your best is one of the most important goals to set for yourself. Aiming for your highest possible achievement is very important. Therefore, I will encourage my students to do their personal best.
7. Concerts Attended
I will encourage my students to attend as many concerts as they can manage with their schedules. I believe attending concerts often gives many more valuable lessons that an individual private lesson provides. If students attend a world class performance, they will realize how beautiful a live performance can be. Also, if they attend some concerts where they can hear the professional critics and get feedback on how to best present on stage, they will know what they should not do, and why unpleasant things happen during the concerts. They will also learn how to be decent audiences without me telling them.
8. Chamber Music, Orchestra Music
Besides solo training, I will train my students to become very active in chamber music and orchestra music. I think that will help make the students to harmonize not just with other instruments, but also harmonize personally with other musicians, and create beautiful music together. I will most definitely request chamber music repertoire and orchestra excerpts during lesson.
9. True Love and Passion
I think without true love and passion for their instruments, no musician can play with 100 percent of their heart. I feel this is critical; musicians need to play their instruments with commitment and passion and it must show in their performance. When I was young my mother gave me many private music lessons. I took variety of instrumental lessons including piano, cello, violin, harp and voice lessons.
However, I found myself mostly attracted to the harp, and I think my commitment kept me going with the harp through my life. There have been some difficult and challenging times when I was exhausted after so much practicing, but I was always so revived by my emotional connection, because I knew I was doing what I love. I would be able to help my students to find their passion and love for their instruments, and I believe that it will make it a lot easier on their journey with their choice of instruments.
I am a very blessed person that I have met many wonderful teachers. I was always hoping that one day I would become a good teacher so that I can pass on to my students everything I learned from all of the wonderful musicians who taught me. I am very excited about that I will guide my students to follow the steps of all the wonderful musicians I have met.
Current Teaching Position
-Piano Faculty at University of Massachusetts Boston since 2014
-Harp Faculty at University of Massachusetts Boston since 2012
-Harp Faculty at Eastern Nazarene College since 2012
-Harp Instructor though Arts Program at Harvard University since 2010
Past Teaching Experience
-Harp Faculty/ Founder of the harp department at South Shore Conservatory since Nov, 2009
-Harp and Piano Instructor/ Quincy Community Art School
-Teaching Assistant for Undergraduate Minor Student at Yale University (2005)
-Teaching Assistant for Undergraduate Minor Student at Boston University (2008)
-Head of the Harp Faculty and Piano Faculty at Adagio Music Academy (2009)
-A private teacher for both harp and piano since 1999/ Worked as a piano accompanist since 1996.